CAIPaDi English web page
---
Center for Comprehensive Care of the Patient with Diabetes
Diabetes influences many aspects of everyday life and in turn, many factors can determine its control. That is why in its treatment, it is necessary to address medical, emotional, lifestyle and educational aspects.

In the Center for Comprehensive Care of the Patient with Diabetes, a program has been developed in which several specialists who team up with the patient and their families participate, with the main objective of improving control and avoiding disabling complications of the disease.
Consolidate a model of care, training and research of high quality, structured and multidisciplinary that seeks to improve the quality of life of patients with diabetes focused on promoting self-care.
Mission:
Improve the quality of life of patients with diabetes through a structured intervention that seeks to empower the individual to change their behaviors and beliefs of their illness for long periods, using international standards of treatment.
Care Program
The aim of multidisciplinary interventions is a comprehensive evaluation of the patient with diabetes, providing tools for self-care and prevention of complications, and the consolidation of a program of long-term control.
The Center for Comprehensive Care of Patients with Diabetes health staff has highly qualified and experience in the field of diabetes:
Endocrinologists with highly specialized courses in diabetes, obesity and thyroid.They perform complete physical assessments, establish management goals and plans for individualized medical treatment.
Certified diabetes educators. They provide knowledge and tools for self-care of diabetes in order to reduce the risk of complications of the disease.
Nutritionists focused on diabetes care.They provide tools and knowledge needed to change eating habits in a personalized way with short- and long-term favoring the right decisions when eating.
Clinical psychologists who specialize in chronic degenerative diseases. They value the emotional, motivational state and the barriers that the patient in order to promote adherence faces.
Dental specialist in periodontics They prevent, diagnose and treat many common oral disorders in people with diabetes.
Liaison psychiatrists.Oriented patient management that causes chronic degenerative diseases, dedicated to the treatment of depression, anxiety or eating disorders that interfere with diabetes.
Specialists in physical activity.They develop and provide an individualized exercise program, according to the characteristics and needs of each patient to maintain an active lifestyle to help control the disease.
Retina specialist ophthalmologist.Diagnose, prevent and educate about the most common eye complications of diabetes in order to prevent diabetic retinopathy, the leading cause of blindness in Mexico.
Foot care.This consultation is given by specialists in foot care for people living with diabetes. Its function is to evaluate and detect abnormalities in the feet to increase the risk of developing lesions, ulcers and diabetic foot, in order to prevent amputations.
In addition to individual counseling, group sessions are held each time. Each intervention seeks education about the disease and teaches self-care habilities to promote healthy life without complications.
The program consists of four monthly visits. The patient arrives at 7 am to sampling and start interventions with different specialists from the Center. It has morning and evening hours for your preference. After 4 visits you return to the Center at 1 and 2 years visits. During the time the program ends and the re-evaluation, the patient continues controlling their diabetes with a referring physician.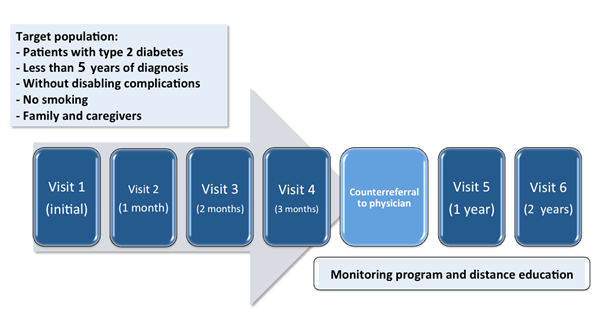 In CAIPaDi are attended patients who meet the following:
Between 18 and 70 years old.
Diagnosed with type 2 diabetes mellitus in the past 5 years.
Have a family member who can accompany he/she each visit.
Be referred by a physician who is committed to continue their monitoring and reporting at the end of the program.
What are the advantages of attending the Center for Comprehensive Care of the Patient with Diabetes?
High quality care, both professionally as a human.
All interventions are done the same day and same place.
The family is involved as much as the patient.
All interventions seeks to promote education and self-care of patients with diabetes.
All interventions seeks to promote education and self-care of patients with diabetes.
It is a dynamic and innovative program that will change the way you see your doctor and other health professionals.
In our Center you are the most important element of the treatment
Investigation lines
| | |
| --- | --- |
| Draft | Approval by the Committee for Research and Ethics Committee INCMNSZ (reference number) |
| Validation of a comprehensive care model for the care of patients with diabetes, applicable in the first five years of exposure to the disease | 1198 |
| Prevalence, incidence and progression of retinopathy and macular edema in patients with type 2 diabetes newly diagnosed | Sub-study 1198 |
| Development and validation of a software linked to a website that provide medical treatment and patient empowerment with type 2 diabetes, interaction with medical staff and generating a real-time recording | Sub-study 1198 |
| Evaluation of the effect of personality traits with obtaining the goals of control in patients with diabetes type 2 | Sub-study 1198 |
| Comparison of two methods of prescribing physical activity in health personnel | 1336 |
| 5-year study to compare the durability of glycemic control in a combination regimen with vildagliptin and metformin versus metformin monotherapy as standard therapy, begun in naïve patients with type 2 diabetes mellitus | 617 |
| Cognitive behavioral therapy (CBT) for increasing adherence in patients with type 2 diabetes mellitus and depressive or anxious symptoms | 1758 |
| Peer support program to increase adherence to treatment in patients with type 2 diabetes mellitus. | 1853 |